---
Adam Lambert Is All Ready To Play The Game
Quote :

Adam Lambert is finished touring with rock legends Queen, and he's now ready to play the game. The American Idol singer alerted his Glamberts on Twitter on Thursday that he's completing his third album, the follow-up to 2012′s Trespassing.
Lambert's been touring with Queen guitarist Brian May and drummer Roger Taylor since June, but had already begun work on his as-yet-untitled album before that. The singer enlisted the help of Swedish songwriter Max Martin, who wrote two songs on Lambert's 2009 debut solo album.
In December 2013, Lambert promised the album by 2014. "If not, something is seriously wrong!"
Under pressure indeed!
Joan Rivers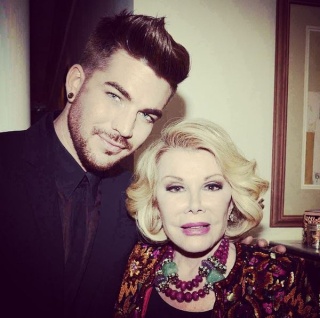 Following the sad news of Joans passing, Adam posted this tribute on Twitter
Here's another chance to see Adam & Joan on Fashion Police
Maori dance backstage with Adam Lambert & Queen
---