Adam Lambert News : 26th October 2014

26.10.14 0:11 by Carol
---
Welcome to Adam Lambert UK Glamberts
Established June 2009
Adam Lambert Biography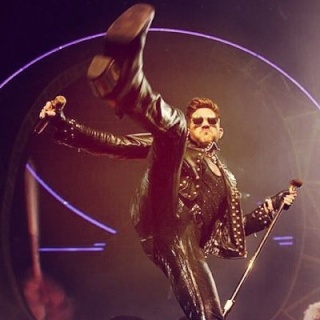 Who Is Adam Lambert?
Latest Adam Lambert News & Information
NEW UK & EUROPEAN TOUR DATES FOR 2015
Limited Number of Tickets Left on Sale Now
BUY HERE
Adam Lambert Official Fan Club Members
BUY HERE
For ease of use all concert multimedia is included in the Daily News
To find a particular concert just put the City in the search engine at the top of this page
As this site runs on U.K. time all multimedia was posted the day after the concert date
E.G. Queen with Adam Lambert in Chicago appears in the 20th June Daily News
Adams Weekly Column From The Backlot
Updated every Wednesday
The Backlot
Supporting & Promoting Adam
Help Adam be on top by using this comprehensive list of links
Visiting Adam Official at least once a day to vote etc will earn him points
These points will then help him climb Billboards Social Chart
Adam Official
:
UK Links
Adam Lambert 2015 Calendar

Place Your Order NOW :
Adam Lambert Fans
---
Comments: 0
Adam Lambert News : 25th October 2014

25.10.14 0:23 by Carol
---
Quote :

The 32-yr-old Adam Lambert has done really well for himself. Considering that he wasn't even the winner of the American Idol cycle he appeared in, it's commendable how he's been able to carve out a solid career for himself. His genre of music can be considered as pop, pop rock or glam rock, and he certainly has the image to pull it off. Lambert is very particular about his looks and he's not shy to enhance his handsome features with all kinds of makeup. He also uses a lot of product in his hair too, so every strand is always perfectly coiffed and in place.  No wonder he named his first world tour Glam Nation – it doesn't get more glam than Mr. Lambert...........see who else made the list on The Richest
---
Comments: 0
Adam Lambert News : 24th October 2014

24.10.14 0:06 by Carol
---
Quote :

Adam Lambert has spoken of his "mad respect" for Jessie Ware.

The two singers have history together, with Lambert previously praising the Brit and covering one of her songs.

Ware performed in Los Angeles on Thursday night (October 23) and Lambert was in attendance.

He posted a short video of the gig on Instagram, adding:

"@jessieware killin it in LA tonight. Mad respect. Gorgeous set."

Ware responded: "Babe!!! You should have come to say hi!!!"

The Brit meanwhile released her new album 'Tough Love' this month.
©
Pressparty
New Pics of Adam
Normally do not post these kind of pics but he's happy & smiley so.......
More pics
The Most Memorable Celebrity Halloween Costumes
Adam's Genie Outfit included
---
Comments: 0
Adam Lambert News : 23rd October 2014

23.10.14 0:14 by Carol
---
Quote :

After blasting the eardrums of fans around the globe with his powerhouse voice and fronting one of the most iconic rock n' roll bands of all time, you'd think Adam Lambert might be ready to give singing a rest.
But instead, the guys he fronted this summer have stepped into the spotlight, to sing Adam's praises.

The members of Queen decided to open up recently, to Ultimate Classic Rock, and share their sentiments about what touring with Adam as their frontman meant to the band.

Drummer Roger Taylor of Queen said the guys had a "great experience" touring with Adam. Then he touted Adam's theatrical talents as "the greatest."......read more on Onepopz
Adam in Psychology Book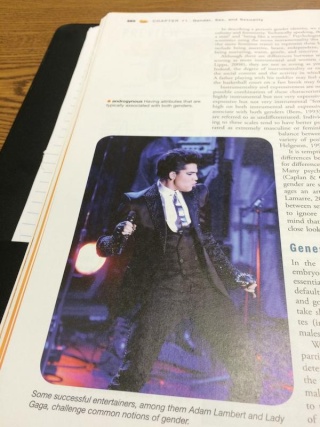 Source
---
Comments: 0
Adam Lambert News : 22nd October 2014

22.10.14 0:01 by Carol
---
Queen's Roger Taylor gushes over Adam Lambert
& reveals recording plans!
Martin Lamont for Unreality T.V. wrote:

We all know that for quite some time vocalist Adam Lambert has been doing a fantastic job of fronting rock band Queen as they perform across the world.

The group have recently just finished their huge summer tour and it didn't take them long for them to announce plans of a tour across Europe.

Since Lambert joined forces with the rockers, both Brian May and Roger Taylor have had nothing but the biggest praise for the former 'American Idol' alum and fans couldn't agree more.......read more
10 Songs You Didn't Know Were Written by Bruno Mars
Never Close Our Eyes is shown three minutes into the video
---
Comments: 0
Adam Lambert News : 21st October 2014

21.10.14 0:20 by Carol
---
Roger Taylor Talks About Solo Work, Queen in the '70s
'We Were Just a Heavy Rock Band' – Exclusive Interview

Snipped for Adam content
Matt Wardlaw for Ultimate Classic Rock wrote:

Queen has been out touring this year with Adam Lambert and folks have been really happy to get a chance to see the band in arenas again here in the U.S. What was it like for you, going back out on an extended tour?

It was about four months, because we went to Asia and Australia as well. I have to say, it was just great. You know, we got on so well with Adam. He fitted in so well with us and he brought so much to the show. [He's a] great frontman and he looked great and he sings beautifully, and his style is very suited to our music. You know, it's pretty theatrical music, some of our stuff. He's the greatest. So, we really had a ball and I think it came over in the shows. They were very well attended and the reception that we got in every city was great. So, it was a really great experience and I'm thrilled. We're going to go on and do Europe in January and February. It's all good........full interview
11 Songs You Didn't Know Pharrell Produced
Quote :

Before linking up with Pharrell, Adam Lambert had been kicking it with pop maestros like Dr. Luke, Max Martin, Ryan Tedder and Shellback. Then Skateboard P linked the Idol fave up with his sophomore album's groovin' title track, which really should have gotten the single treatment. It's a sassy stomper of a track that slightly recalls "Hollaback Girl," but we wouldn't pin it on Pharrell automatically.



The 7 Scariest Moments From
The 'Pretty Little Liars' Halloween Specials
Shaunna Murphy for MTV wrote:

Halloween is just around the corner, which means it's usually time for our favorite residents of Rosewood, Pennsylvania to be terrorized by people wearing creepy-ass masks. "Pretty Little Liars" Halloween specials have always been fan-favorites, because — ever since season two — they tend to bring death, destruction, and the most ornate costumes you've ever seen on a high school student in your entire life. Remember Spencer as Mary Queen of Scots? Of course you do.

Tonight's  episode, "We Love You to DeAth," will tone down the antics and feature the actresses themselves — Troian Bellisario, Ashley Benson, Lucy Hale, and Shay Mitchell — giving fans a behind-the-scenes look at the show. So in lieu of actual Halloween scares this year, here are the craziest moments from years past, so you can re-live the Halloween horrors all over again...........



#7. Adam Lambert Performs, "This Is A Dark Ride"

see the other six



---
Comments: 0
Adam Lambert News : 20th October 2014

20.10.14 0:17 by Carol
---
Tour Advert on The Streets of Paris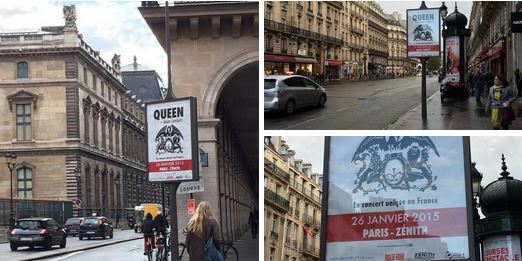 Source
Charity Auction Ends Soon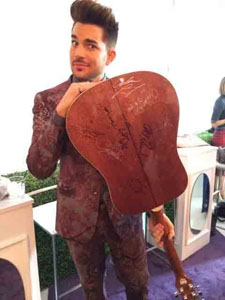 Adam and the signed guitar which is due to be sold on 23rd October
Place your bid
Here
---
Comments: 0
Fan Mail Address

Adam Lambert
8332 Melrose Avenuw
2nd Floor
Los Angeles
CA 9006

RCA
9 Derry Street
London
W8 5HY