Adam Lambert News : 18th September 2014

18.09.14 0:17 by Carol
---
Welcome to Adam Lambert UK Glamberts
Established June 2009
Adam Lambert Biography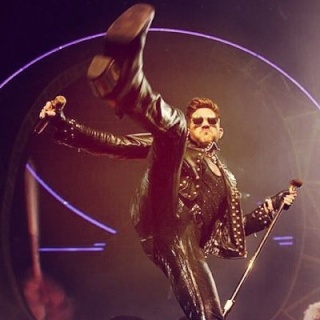 Who Is Adam Lambert?
Latest Adam Lambert News & Information
Adams Weekly Column From The Backlot
The Backlot
Supporting & Promoting Adam
Help Adam be on top by using this comprehensive list of links
Visiting Adam Official at least once a day to vote etc will earn him points
These points will then help him climb Billboards Social Chart
Adam Official
:
UK Links
Adam Lambert 2015 Calendar

Place Your Order NOW :
Adam Lambert Fans
Queen + Adam Lambert Tour
For ease of use all concert multimedia is included in the Daily News
To find a particular concert just put the City in the search engine at the top of this page
As this site runs on U.K. time all multimedia was posted the day after the concert date
E.G. Queen with Adam Lambert in Chicago appears in the 20th June Daily News
Classic Rock Roll of Honour
Nominate Queen with Adam Lambert
here
---
Comments: 0
Adam Lambert News : 17th September 2014

17.09.14 0:21 by Carol
---
Access Hollywood wrote:

Adam Lambert returned to "American Idol" this week – this time as a judge, filling in for Keith Urban (who is with wife Nicole Kidman, who is grieving the loss of her father) – and he's excited to be back at his old stomping grounds.

"I'm really honored that they asked me to come back in fill in for Keith. The circumstances are sad, my condolences," Adam – who was "Idol's" Season 8 runner-up – told Access Hollywood in a new interview. "But, on a lighter note, I'm thrilled to be here. I'm thrilled to be able to help these contestants follow their dreams."

Adam said he's developed a strategy for how he treats nervous contestants in the audition room..........read more
American Idol 14 Photo Call
©
Zimbio
Adam Lambert's short speech as new AI judge in New York
DAY ONE
DAY TWO
Crystal Walker Interview
Entertainment Tonight
Source
Full interview Adam starts at 1.36
FOX 5 NY News at 5 American Idol Auditions
Adam starts at 1.43
Idol Judges on Season 14
J.Lo Wants Less Cruelty, Adam Lambert Seeks Artistry,
Harry Flinches at 'Geek' Label
Michael Slezak wrote:

A change or two is gonna come when Season 14 of American Idol returns next January — starting with the lineup of judges at the New York City auditions and possibly percolating down to the kind of contestants being sought and the amount of torture they'll receive from the show's producers.
Indeed, due to the sudden death of his father-in-law, panelist Keith Urban had to sit out Tuesday and Wednesday's callbacks at the New York Marriott at the Brooklyn Bridge. But Season 8 runner-up Adam Lambert stepped in alongside Jennifer Lopez and Harry Connick Jr., to hand out Golden Tickets to Hollywood and the requisite pink slips to folks more suited to their local karaoke bar — or ABC's Rising Star.......read more on TV Line
Quote :

2010sHis hit "If I Had You" mentions getting ready for a night out with his boots, leather and black kohl liner -- all staples for former American Idol star Adam Lambert.
---


[ Full reading ]
Comments: 0
Adam Lambert News : 16th September 2014

16.09.14 0:41 by Carol
---
Adam Lambert judges on American Idol – why he'll be a GREAT mentor!

Lisa McGarry for Unreality T.V. wrote:

American Idol bosses have revealed that Adam Lambert will be joining the panel for the forthcoming New York auditions, temporarily filling in for country singer Keith Urban.

Keith has been forced to take time out of the show, after the father of his wife, Nicole Kidman, was found dead a few days ago.

The news was confirmed on the official AI Twitter account in a message which read:

"Adam Lambert will be serving as guest judge at the NY auditions. Our thoughts are with Keith and his family during this difficult time."

Many of you Glamberts have been enthusing over the news and we know you can't wait to see Adam back on the show, which propelled him to global fame.............read more
Fan footage


Quote :

Earlier today, vocal powerhouse Adam Lambert confirmed that he will be sitting in on the judging panel for 'American Idol' this week and he has now shared a snapshot from the show's set.

The photograph, which was originally uploaded to Instagram by permanent judge Jennifer Lopez, shows the 'On The Floor' beauty posing with Lambert and Harry Connick Jr. She accompanied the picture with the caption: "Serving face w @adamlambert @harryconnickjr#theyreservingmorethanme #poutylips #idolseason14."

Harry Connick Jr. also shared a photo via his Twitter page and told his followers that Lambert is doing 'great' as a temporary panelist, writing: "Having a blast with @adamlambert @ryanseacrest and@jlo for the NYC @americanidol auditions - adam's doing great!!!"

Lambert, meanwhile, has revealed that he's very excited to resume work on his brand new studio album and earlier this month he tweeted: "I'm thrilled to get back home and complete my upcoming third solo album. #3rdtimesaCharm ;)."
---


[ Full reading ]
Comments: 0
Adam Lambert News : 15th September 2014

15.09.14 0:16 by Carol
---
Adam & Queen in Magazines
Rolling Stone Russia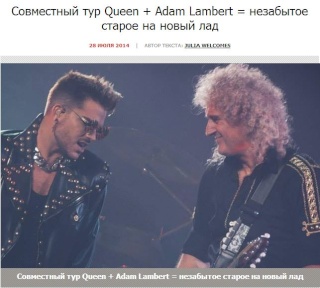 Source
Crossbeat Japan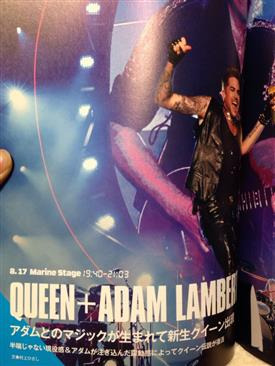 Source
INROCK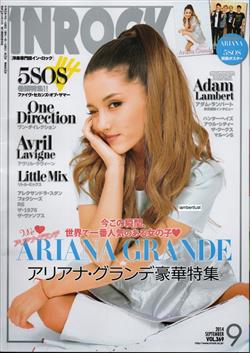 :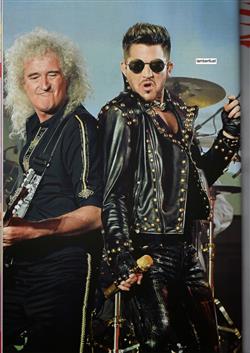 More here
Bleep Magazine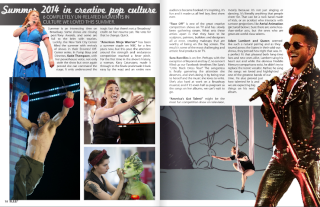 Source
---
Comments: 0
Adam Lambert News : 14th September 2014

14.09.14 0:15 by Carol
---
Adam Mention on Oz X Factor
WOOOHOOOOO GOOOOOOO RONAN KEATING ♥
---
Comments: 0
Adam Lambert News : 13th September 2014

13.09.14 0:31 by Carol
---
Adam in September's Rolling Stone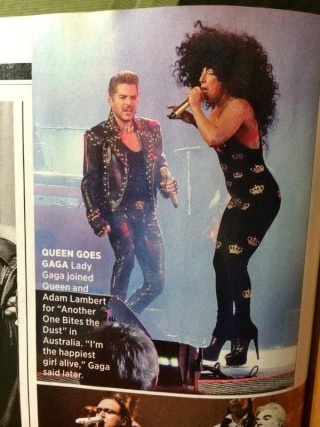 Source
---
Comments: 0
Adam Lambert News : 12th September 2014

12.09.14 0:20 by Carol
---
Could Adam Lambert's New Album Be Released Before 2014 is over?

It's Definitely Possible
ALEX KRITSELIS for Bustle wrote:

.........We also know that Lambert traveled to Sweden in March to work with pop music genius Max Martin — and that's fantastic news. Martin has been setting — not following — musical trends for the last 16 years, and his past work with Lambert is, in my opinion, some of the singer's best. Lambert and Martin collaborated on two songs that appear on Lambert's debut album, For Your Entertainment: "Whattya Want From Me" and "If I Had You." Joe Janiak, a U.K.-based songwriter who works closely with Martin, told Billboard in March that we can expect to hear "big things" from Lambert's new record. How exciting is that?..........read in full

---
Comments: 0
Fan Mail Address

Adam Lambert
8332 Melrose Avenuw


2nd Floo

r
Los Angeles


CA 900

6



RCA
9 Derry Street
London
W8 5HY