Adam Lambert News : 24th November 2014

24.11.14 0:12 by Carol
---
---
Comments: 0
Adam Lambert News : 23rd November 2014

23.11.14 0:18 by Carol
---
Queen and Adam Lambert
confirmed for The X Factor next weekend

They're expected to perform a medley of classic Queen hits
Quote :

Queen and Adam Lambert will top off their incredible year with a special performance on The X Factor results show next weekend. It'll mark their first proper UK television performance with their new frontman before they bring their tour here in January 2015...........read more on Click Music
Adam in The Daily Mail
Leaving Miley Cyrus' Birthday Bash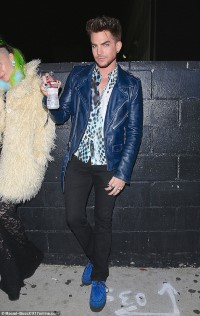 Full story
Miley Cyrus' Beacher's Madhouse birthday party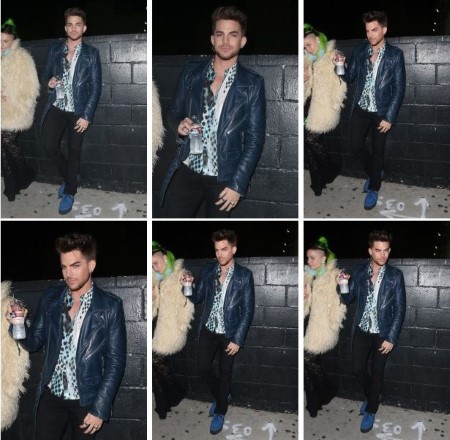 Full size images on
Imagebam
Quote :

Adam Lambert gets ready to party as he steps out on Saturday evening (November 22) for Miley Cyrus' 22nd birthday party at Factory Nightclub at Beacher's Madhouse in Hollywood.

The 32-year-old entertainer was spotted in the photo booth that evening, where he had fun with the props put out for guests – he was seen licking and fondling a blow up doll while surrounded by pals!...........more on Just Jared
---
Comments: 0
Adam Lambert News : 22nd November 2014

22.11.14 0:26 by Carol
---
UNICEF Release Official Imagine Video
Adam sings a different line on this video
---
Comments: 0
Adam Lambert News : 21st November 2014

21.11.14 0:13 by Carol
---
Top 10 American Music Awards Moments
Quote :

From Miley Cyrus' giant cat to PSY's crazy mash-up with MC Hammer, check out the 10 most memorable AMAs performances ever.

Over the past 42 years, the American Music Awards have produced dozens of memorable performances, from the quiet grace of Madonna's duet with Babyface in 1995 to the controversial sexuality of Adam Lambert in 2009 to the historic collaboration of "We Are The World" in 1986. As we look forward to the 2014 American Music Awards on Sunday, Nov. 23, check out these 10 memorable moments in the show's history:

Adam Lambert - 'For Your Entertainment' 2009

The "American Idol" runner-up shocked the AMAs crowd with a racy rendition of "For Your Entertainment" in which he sang, "Can you handle what I'm about to do?" Some could not, as Lambert's performance, which included a sloppy kiss with a male guitarist and some choice S&M gear, sparked immediate controversy. The performance still stands as Lambert's most memorable awards show outing, although his career hasn't slowed down at all -- "Trespassing," his sophomore album, debuted at No. 1 on the Billboard 200 in May 2012.
---
Comments: 0
Adam Lambert News : 20th November 2014

20.11.14 0:12 by Carol
---
Katy Perry and Adam Lambert feature in UNICEF 'Imagine' remake
Quote :

Katy Perry and Adam Lambert are among the stars who have contributed vocals to a new version of John Lennon's 'Imagine'.

UNICEF enlisted a host of famous faces to record a cover of the iconic track to celebrate the 25th anniversary of the Convention on the Rights of the Child.

Music stars Perry and Lambert appear in the song and its video, whilst there are also contributions from the likes of will.i.am, Nicole Scherzinger and Cody Simpson.

The song meanwhile will form part of UNICEF's #IMAGINE project.

They will invite the public to download an app and record their own lines to the song alongside the famous stars.

David Guetta will then create a multi-lingual version of the tune using the public's contributions.
Queen's Brian May EXCLUSIV INTERVIEW
Brian spoke to NeuH Magazine and mentions Adam
People Magazines Gleek to Gorgeous List
Glimpse of Adam at 2.32
Source
---
Comments: 0
Adam Lambert News : 19th November 2014

19.11.14 0:17 by Carol
---
Kisa McGarry of Unreality TV wrote:

Adam Lambert really is a man in demand and as well as fitting in work on his new album, his 2015 tour with Queen and all his charity work, it looks like he could soon have yet another project in the pipeline.

The American Idol star has received a message from old pal Nile Rodgers, who would dearly love him to collaborate on the remake of an old Diana Ross and Chic song.

Rather than picking up the phone and giving his friend a call however, his old Lay Me Down collaborator tweeted Lambert instead, letting everyone know how desperate he is to hook up with the vocal powerhouse once more.

Niles tweeted yesterday, asking:

"Hey Adam! How the hell are you? Please sing on this Diana Ross w CHIC track! Send me your schedule. I'll call Martin. Love........read more
American Idol Returns to US TV January 7th 2015
Kimberley Roots for TVLine wrote:

The search for the next American Idol starts… insert dramatic Ryan Secrest pause here on Wednesday, Jan. 7, 2015.
Fox will kick off the reality singing competition's Season 14 premiere that night with a one-hour episode at 8/7c, then wrap it up with a two-hour installment on Thursday, Jan. 8 at 8 pm.

During the opening eps, Idol's three returning judges — Jennifer Lopez, Keith Urban and Harry Connick Jr. — will hit auditions in Kansas City, Minneapolis, Nashville, New Orleans, New York and San Francisco. The New York episodes will feature guest judge Adam Lambert, subbing for an absent Urban.......read more
---
Comments: 0
Adam Lambert News : 18th November 2014

18.11.14 0:29 by Carol
---
Lisa McGarry of Unreality TV wrote:

Brian May has been discussing his off stage relationship with Adam Lambert and jokingly referred to it as an 'affair.'

The British rocker has become close to the openly gay American Idol star since first meeting him on the final of the hit Fox singing show all those years ago and since then Adam has proved the perfect front man for the legendary band, and a wonderful replacement for the late, great singer Freddie Mercury...........read more
---
Comments: 0
Fan Mail Address

Adam Lambert
8332 Melrose Avenuw
2nd Floor
Los Angeles
CA 9006

RCA
9 Derry Street
London
W8 5HY