Welcome To Adam Lambert UK Glamberts
Website established June 2009
Adam Lambert Biography
Latest Adam Lambert News & Information
Eliminated X Factor Contestant Mentions Adam
CeCe Frey 'Knew' She Wasn't Going To Win 'X Factor'
CeCe went home on Thursdays show...........more on
MTV
Adam Lambert - Rehearsal with Cyndi!
Adam keeked his rehearsal with Cyndi Lauper!
Fiasco magazine : Issue 23 – The Obsession Issue
Adam will appear on the cover and will be avaiable from December 11th
Visit the
Website
to order your copy now
Adam Lambert and Queen

Queen & Adam Lambert at Hammersmith was chosen as among the 'best-of' events of 2012.
Full Size Image
Buy the magazine
Here
Trespassing E.P. Out Now!
MP3 Hard Copy :
Adam Official
: MP3 :
UK iTunes
:
Amazon
:
Play
Adam Nominated For A UK MP3 Award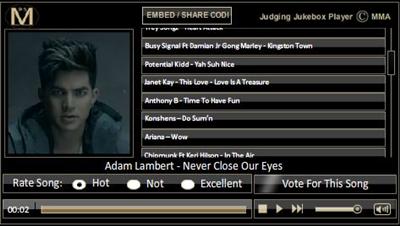 Adam is nominated for House / Dance / Trance Award
To vote : Visit the
Website
& Follow the Vote for This Song Instructions
Trespassing World Tour 2013
Dates so far
17th February : Uniqlo AX : Seoul Korea
19th to 21st February : Shibuya Public Hall : Tokyo Japan
23rd February : City Cultural Hall : Kanazawa Japan
25th February : Club Diamond Hall : Nagoya Japan
26th February : Namba Hatch : Osaka
1st March : Mall of Asia Arena : Manila Philippines
15th March : TBC : Minsk Belarus
16th March : Crocus City Hall : Moscow Russia
18th March : Kvyv Palace of Sports : Kiev Ukraine
20th March : Ice Palace : St Petersburgh Russia
22nd March : Hartwall Areena : Helsinki Finland
SITE NAVIGATION
Welcome : Daily News : Global News : Photo Gallery : Trespassing : Special Events

Adam & Queen : News Archives : Music Archives : Adams Charities : Tour Multimedia : Adam In The UK
BUY ADAMS MUSIC IN THE UK
HMV : Play : Base : Zavvi : Grooves : Sendit

iTunes : 7Digital : Amazon : Sainsbury : Adam Official
ADAM LAMBERT OFFICIAL LINKS
Twitter : Whosay : MySpace : Facebook : UK Publicity : Official Website

Official Fan Club : Fan Club Facebook : Official Merchandise : Fan Club Merchandise
UK SUPPORT & PROMOTION LINKS
View : Rate : Comment
4MUSIC : MUZU TV : MTV UK

NME Artist Page : BBC Artist Page : MTV UK Live Sessions
USEFUL RADIO RESOURCES



Metacritic : All Access : Rate The Music : Mediabase Stats : Hits Daily Double

Billboard Charts : UK Top 100 Singles : UK Top 100 Albums : Rest Of The World Charts